Manhattan: Strong Buy Signal in Play
In August, I published our research note, "Record High Discounts for Apartments Needing Renovations in Manhattan" where I mentioned buyers are receiving a 10yr high discount for apartments that need renovations and wrote about Manhattan being in the Buy Zone in my newsletter, Holt's Monthly Market (click here to subscribe). In collaboration with our analysts, we are issuing a strong buy alert today, given market conditions and recent trends. Let's discuss.

Whether you're aware of it or not, sellers currently find themselves in a notably demanding predicament. Today, I present a comprehensive examination of the prevailing conditions in the real estate arena, culminating in a resounding call for potential buyers to consider a strategic entry into the market. This scenario creates a compelling buy signal characterized by enhanced leverage, price trajectory, inventory nuances, and negotiation dynamics. The culmination of these factors has been incrementally maturing over the preceding months.
As new homes become available on the market, sellers who listed their properties during the summer and are still waiting for buyers are now more willing to offer discounts and better deals. With fear and uncertainty lingering in the market for the past five months, some sellers might be getting tired and more open to negotiations. It's important to note that this situation doesn't apply everywhere. You may need to be selective and compromise a bit, but if you can find the right conditions and are open to some negotiation, you could find great value in the market right now. These insights are based on real-time market data. While it may take 4-5 months to confirm these trends through closed sales, there are significant opportunities available to proactive and motivated buyers at this moment.
Here Are 3 Reasons Why We Feel A Strong Buy Zone Is In Play For Manhattan
Contract Activity is Seasonally Descending to Late September/Early October Lows and Overcoming Resistance
The measure of liquidity, which tracks contract activity within a 30-day rolling window, currently stands at 549 units. This marks a recent low point as we approach the end of September. Historically, this period often marks the point when the market reaches its bottom before rebounding with the onset of the Fall season. We are currently monitoring for signs of this bottoming process to materialize. During this descent into the lower range, it's common to observe heightened levels of fear and market fatigue. It is under these conditions that sellers might become more inclined to entertain lower offers from buyers.

The Climate Index Presents Challenges with Prospects for Improvement
This innovative gauge of market sentiment assesses the proportion of listings entering into contracts compared to those being withdrawn from the market. As the index declines, it indicates a challenging listing landscape. As depicted in the chart below, there has been a discernible shift from a neutral or accommodating market environment to a more challenging one over recent months. This shift is not merely a result of seasonal factors; it signifies a fundamental transformation within the market. While there is a slight upward trend observed since the lows in August, when considered in conjunction with the insights from the liquidity chart above, it provides a clear and realistic depiction of the current state of the market – one that calls for prudent consideration.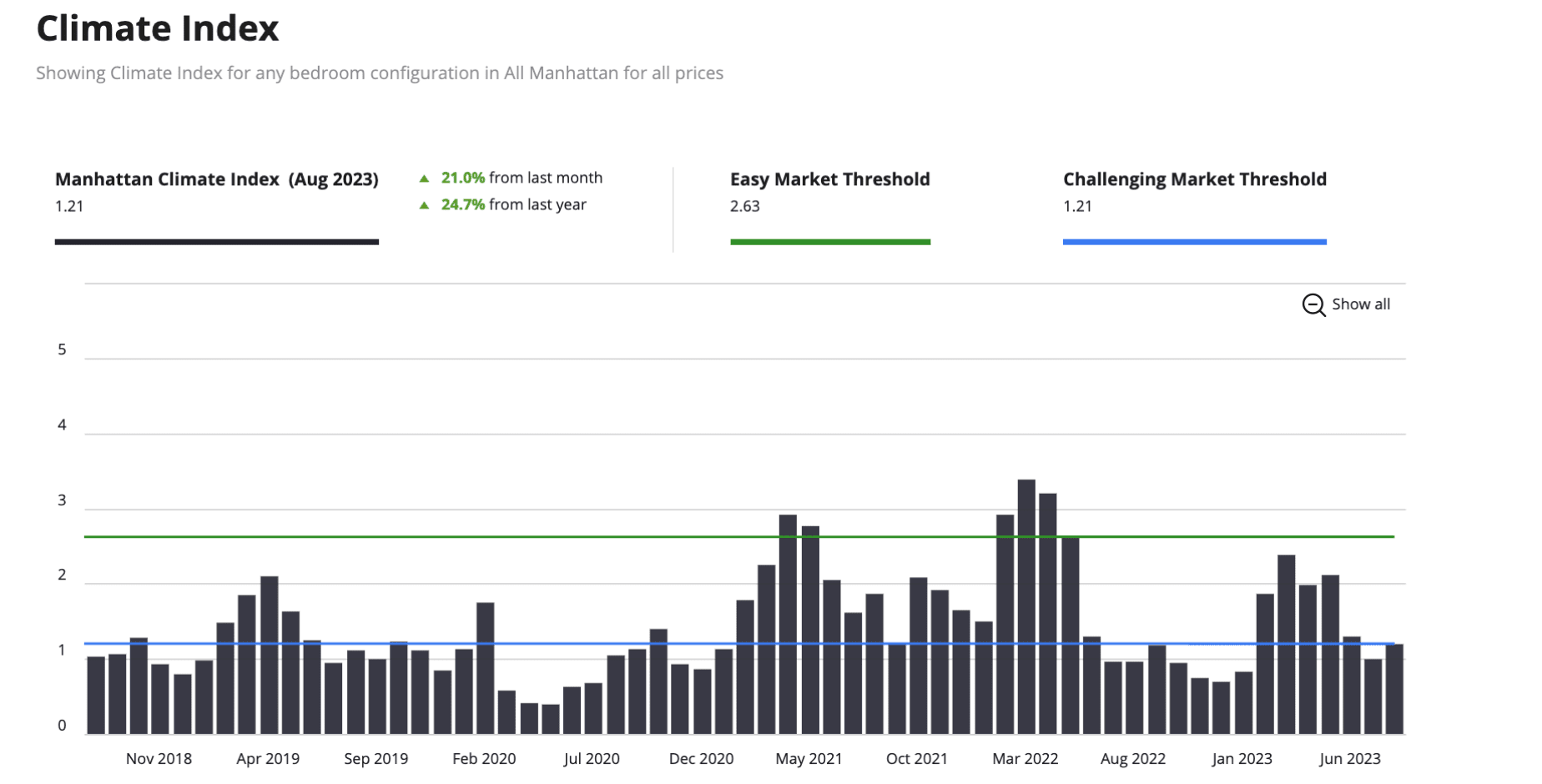 Manhattan Listing Success Rate Plummeting
The key question at hand is whether sellers are achieving success in securing contracts or not. This inquiry served as the impetus for creating the Listing Success chart displayed below. This chart monitors the percentage of listings, categorized by the month they were listed, that effectively secure a contract or reach the closing stage. As evident from the chart, since 2021, there has been a consistent and gradual decline in Listing Success rates. This decline further substantiates the transition from a seller-friendly market to a more demanding one, particularly over the past 4-5 months.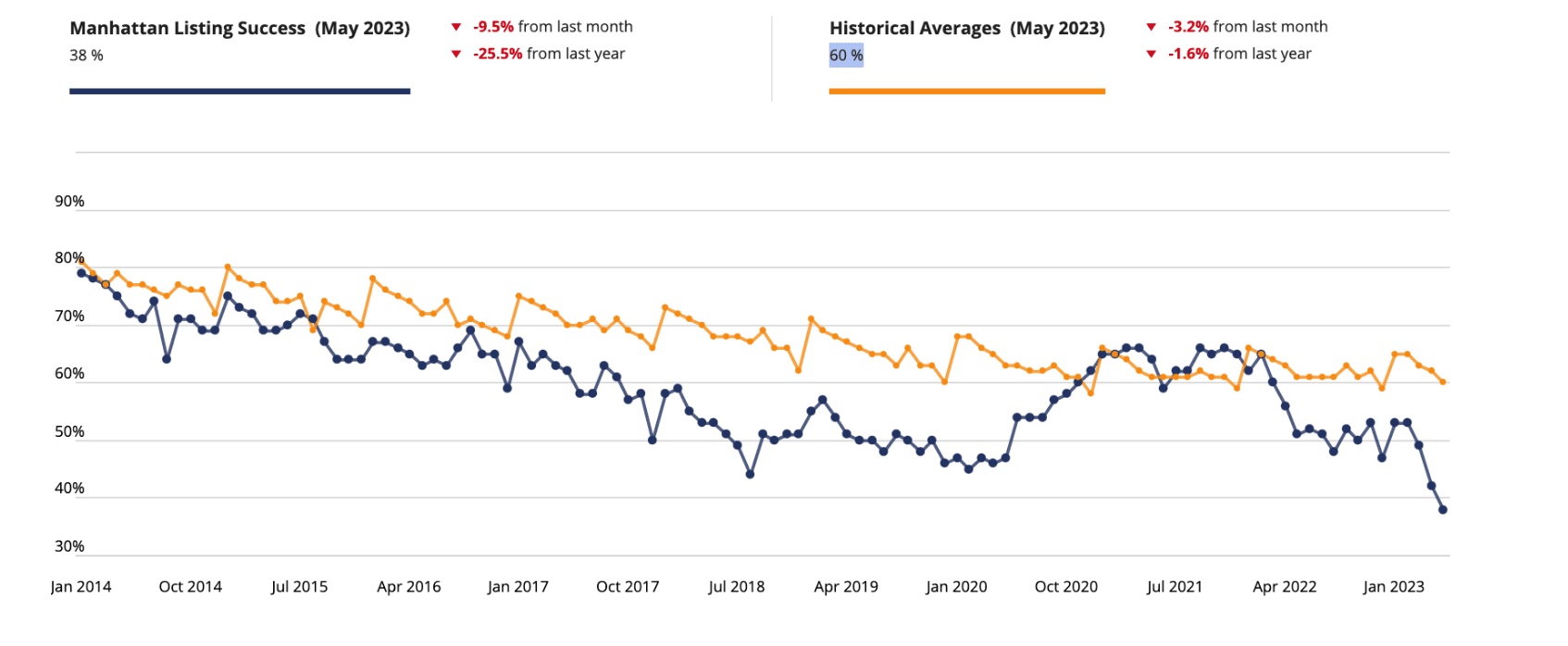 Strategic Insights for Sellers in Manhattan:
Sellers who have had their properties listed for over 90 days are now facing the challenge of competing with newly available inventory in a market that presents formidable obstacles. This combination is less than ideal. If, within the initial 30 days, there has been limited bid activity, it is advisable to consider adjusting the listing price with the expectation that demand might experience a seasonal upturn as October commences. For new sellers, it is crucial to comprehend the cautious stance of today's buyers. They tend to reward only a select few properties and submit less aggressive offers for many others. Therefore, it is imperative to set an appropriate asking price and manage expectations accordingly. At this juncture, sellers do not hold the upper hand in negotiations.
Strategic Insights for Buyers in Manhattan:
Now is an opportune moment to take action and entice sellers to accept your offers. The confluence of decreasing liquidity, diminishing listing success rates, and a worsening market climate signify that sellers with a pressing need to sell are facing challenging circumstances. As a result, prices are likely lower than their summer highs. It's important to note that this doesn't indicate widespread panic, but rather that sellers who must sell and initially priced their properties too optimistically are now adjusting their expectations, hoping to attract a buyer.
These are the properties you should consider pursuing if they align with your needs. Typically, newly listed sellers rarely accept lower offers within the first week of listing. However, properties that have lingered on the market for over 90 days and require some negotiation offer the most significant potential for value appreciation. While it's essential to be prudent, avoid being overly ambitious to the point of losing a favorable deal. Capitalize on the leverage and current market conditions. In retrospect, we may view this moment as an opportune time to make your move.
Note:
Whether you're a buyer, seller, or thinking of being one and are curious about what you should do contact me for expert advice. We have sold properties when other agents failed to do so and are securing great opportunities for our buyers. Click here to contact us and learn more about why we are amongst the top real estate agents in NYC.